---
Merchandise & Collectibles
A visit is never complete until you stop by the small cabinet located in the Lounge Alley. In this beautiful antique cabinet are displayed a small number of items which are available to purchase. Don't expect the merchandising tactics of the busy main street shops, this does not apply here. No signs, no sales person, the cabinet stands alone, blending in well enough to easily be missed.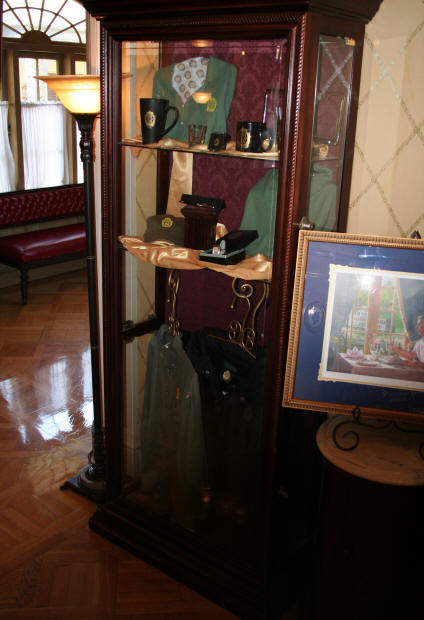 Items consist of beautiful Sweaters, lapel pins, special holiday or event merchandise such as ornaments or pins, drinking glasses, watches, golf shirts and golf balls.
We'll post photos of the items as they become available. Please understand nothing is for sale on this web site. You can sometimes find unique items for sale on eBay.
Please click on this link, and we'll transfer you to the eBay Club 33 auctions.
Please understand, that if you are visiting Disneyland and wish to purchase any club items, you will be unable to. They will not allow park guests to enter the club merely to purchase such pieces. You may purchase collectibles only when dining at the club. Please read the editorial note at the bottom of this page.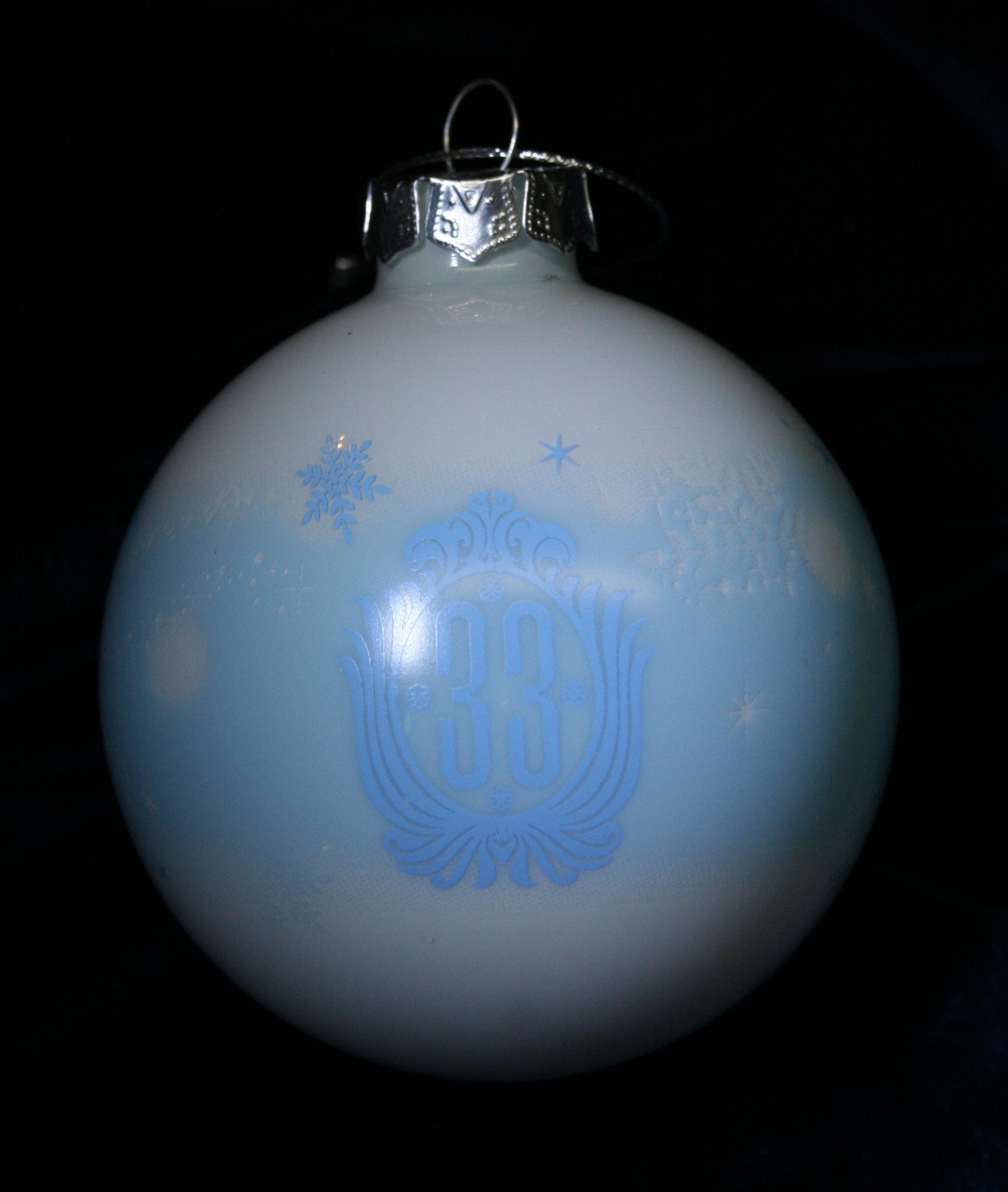 This is the Club 33, 2010, Christmas Ornament.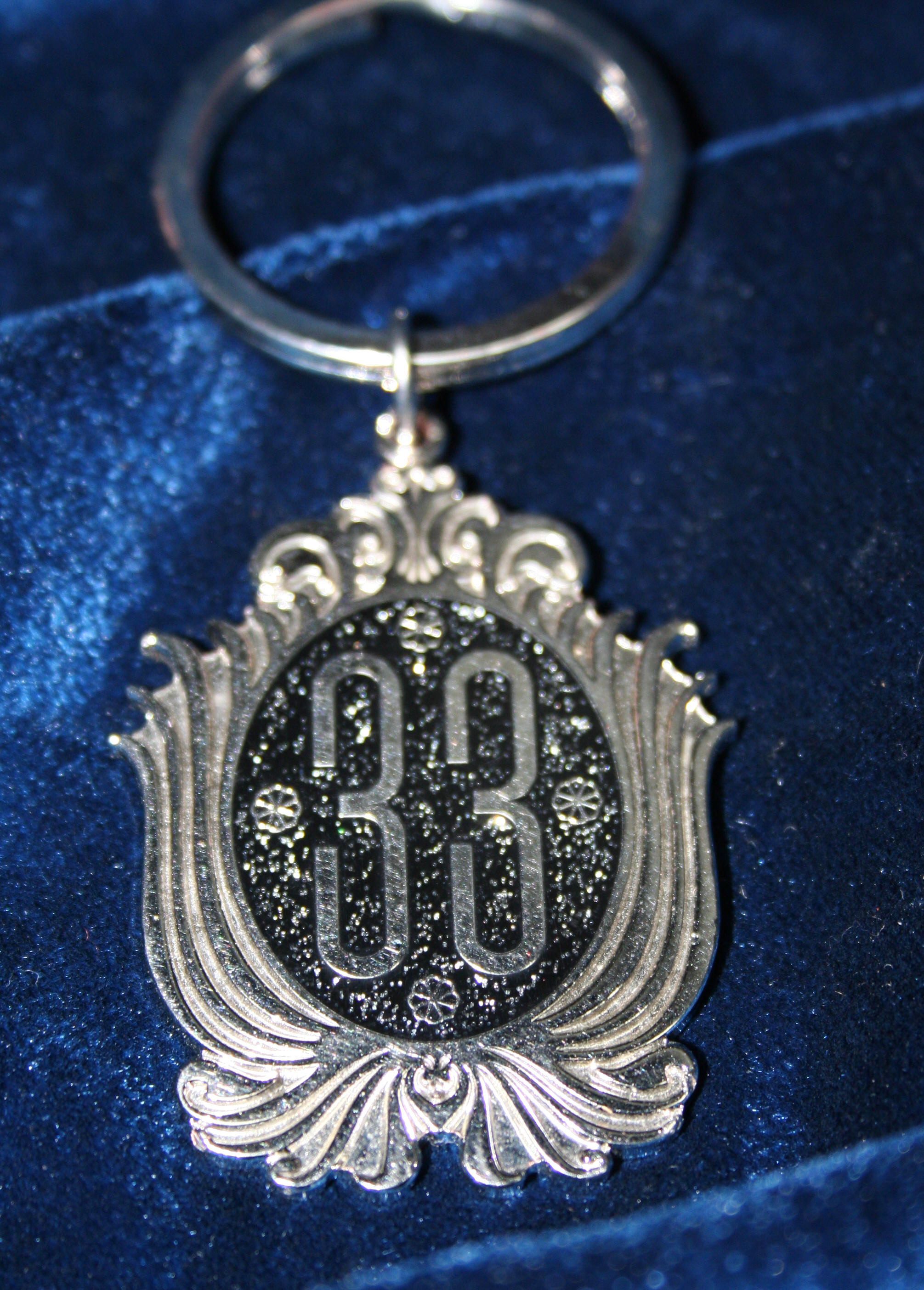 This is the most recent club key ring. Previously offered in gold plate, this new version is a beautiful silver.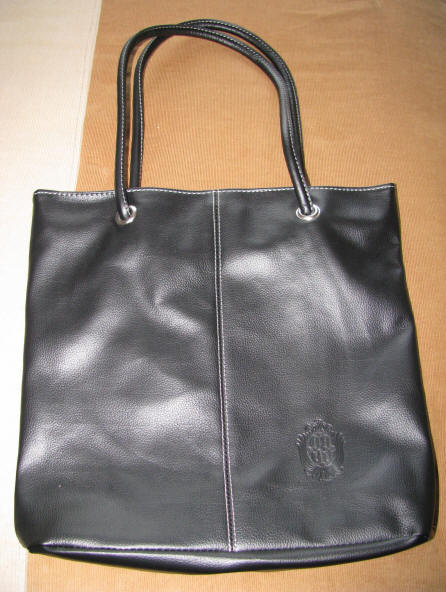 Shoulder Bag
Photo Courtesy of Kinsella5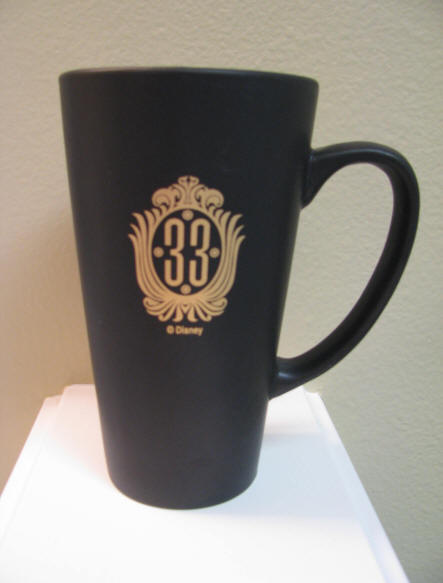 Latte Mug
Photo Courtesy of Kinsella5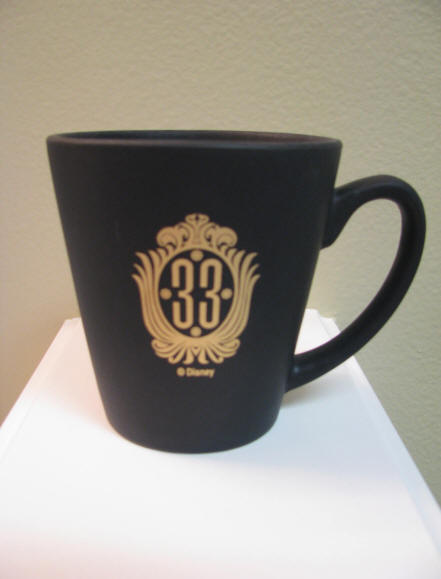 Coffee Cup
Photo Courtesy of Kinsella5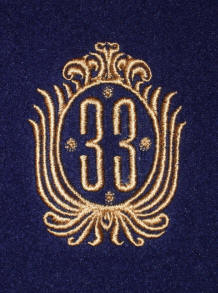 Navy Blue Fleece Scarf. Featuring the famous logo embroidered in gold thread.
From the Tammy Aramian Collection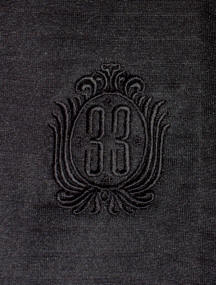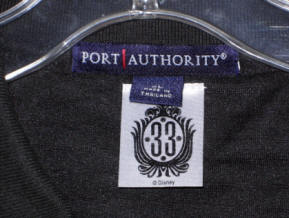 Cotton/poly polo shirt with same-color embroidered logo. Available in red,  
white, and black.
From the Tammy Aramian Collection
 

Set of 12 notecards (4 each of 3 designs), concept sketches of  
the original club.
From the Tammy Aramian Collection
Created by Disney artists C. Boyer & B.C. Boyer, produced in a limited run of 333 pieces, this print is one of the nicest and most collectible pieces the club has ever offered. The print comes unframed, packed carefully within an embossed white sleeve. The print may only be purchased at the club.
Click on the print for additional photos.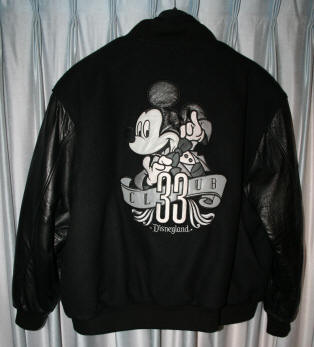 Offered in limited numbers of 333, this is the famous letterman style Jacket. Selling out quickly and greatly sought after, they're now a rare and unique collectible. Click on the jacket to see photos of the inside logo and front lapel club emblem.


This is the lapel pin. It is very well crafted and among pin collectors is quite cherished. These are the most common item you'll find on eBay.
From the Grace Mattson collection
Available as a print-on-demand lithograph, this wonderful print contains a very nice club logo. While this was not an actual exclusive club item, it's certainly worth listing on this site. Most guests of the park do not notice the small '33' mirror. Click on the print to view a small series of additional photos.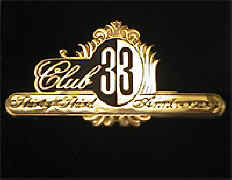 To celebrate the club's 33rd anniversary, this pin was commissioned for a limited run. This pin is highly collectible and quite impressive.
From the Grace Mattson collection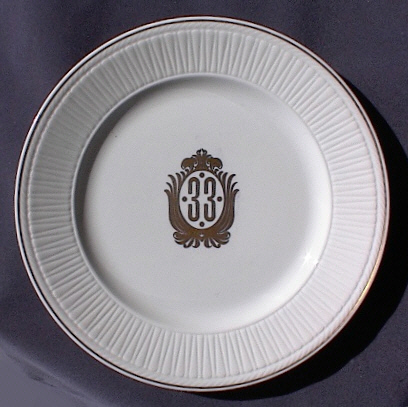 These beautiful white logo plates are actually quite rare. They were sometimes given to members and from there made their way to friends and associates.
From the Grace Mattson collection.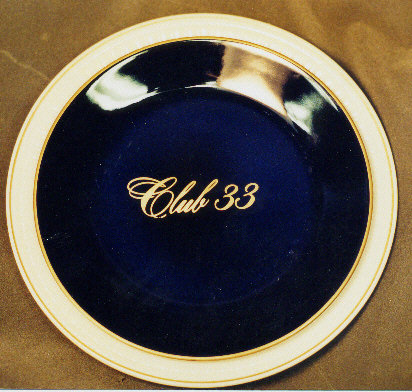 The first table item you'll notice upon being seated is this stunning cobalt blue charger plate. After your waiter is introduced the charger plates are removed and your meal begins. A very nice touch. As the plates start to show wear they're often made available to club members.
I was most fortunate to obtain one for my own collection. Made from fine bone china, these do appear on eBay but often sell for a high price. In this photo you can see the charger plate as it appears placed on a white china dining plate.
From the Grace Mattson collection.
Created for the club's 30th anniversary, this plate was designed by Disney illustrator, Charles Boyer. Production was limited to only 600 units.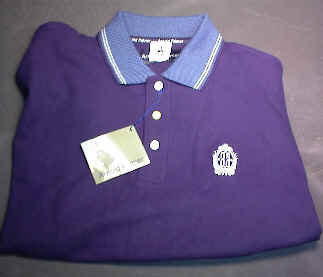 The ultimate shirt for a round of golf or perhaps a game of tennis. This lovely polo shirt comes in royal blue with light blue collar w/white accents. Silver logo, no resort lettering.
From the Kevin Kehoe collection.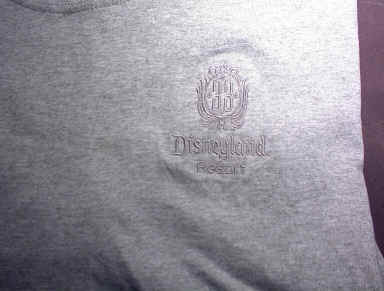 For the casual day off or perhaps washing the Corniche, this comfortable t-shirt will prove durable and long lasting.
From the Kevin Kehoe collection.
A Sunday night visit to Disneyland during the Winter months justifies a soft, warm sweater. Perhaps you're going to ride the Lilly Belle a few circuits around the park. This sweater will keep you warm and comfortable.
From the Grace Mattson collection.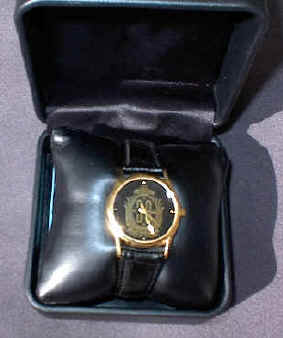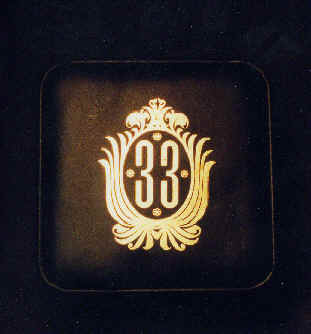 Club watches have proven extremely sought after by Disney collectors. This is an older design and certainly one of my favorites. This style is no longer available at the club but from time to time you'll see them second hand on eBay.
From the Grace Mattson collection.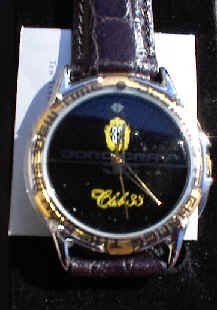 This was a version available in January, 2002. It's quite beautiful. They changed the design periodically, and the price is very reasonable. While a Rolex is nice, this watch stands for something much more special.
From the Kevin Kehoe collection.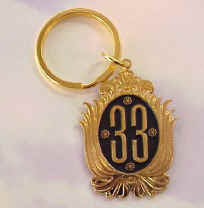 Perfect for that new Silver Seraph, this beautiful key chain is one of the most recent editions to the line of collectibles.
From the Grace Mattson Collection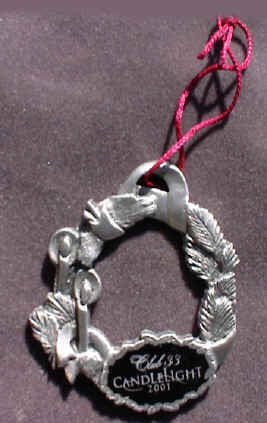 This is the 2001 Christmas ornament. Made from Pewter, it is very striking.
From the Kevin Kehoe collection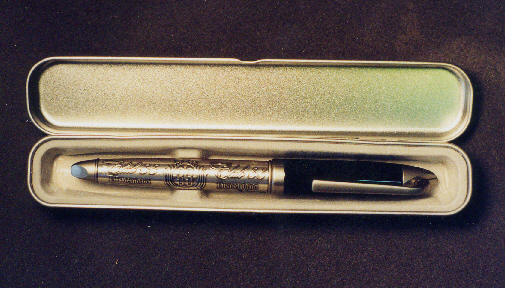 "Gorgeous" could hardly describe this elegant writing tool. Complete with custom metal container and spring loaded retainer clip, this pen proves without a doubt that the club caters to those seeking the best.
From the Grace Mattson collection
Another sought after collectible is this club pen. Cast members have traditionally used them.
From the Kevin Kehoe collection
Wine and shot glasses are sometimes made available to guests. They tend to sell out quickly however.
From the Grace Mattson collection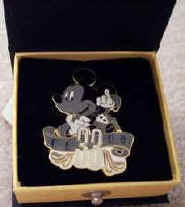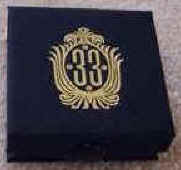 In Celebration of Walt's 100th birthday, this was a limited edition pin. It's extremely well done and the presentation box is befitting of such a special event.
From the collection of James Strawn & David Ludwig.
On July 17th, 2001, the club hosted a wonderful breakfast event to celebrate the parks Birthday. 500 pins were produced.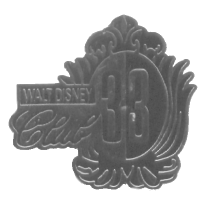 This is an older version of the pin.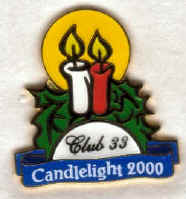 Pin 5696: DL Candlelight 2000
This is a red and white lit stick candle standing in greenery. A round glow is behind the flame and a blue ribbon banner across the bottom reads "CANDLELIGHT 2000". Given to club guests during the 2000 Candlelight Procession. Guests had dinner first and then preferred seating at the musical performance that followed. Information on this pin may be found at:


http://www.pinpics.com/cgi-bin/group.cgi?group=139&pin=5696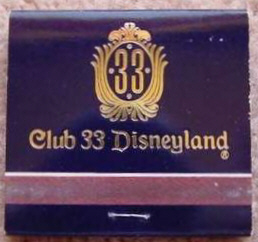 Years ago, when guests would dine at the club, there would be personalized matchbooks waiting for them at their table. In keeping with current health trends, the matches were thusly discontinued. The match books are still available, however, they contain note paper. A novel idea, keeping the tradition alive. They are no longer engraved and must be asked for. Like everything involved with the club, these match books are quite rare.
From the Michael and Joanna Hulme collection.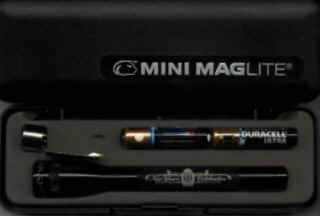 Here is an extremely unique item. As the millennium neared, threats of power outages ran rampant. To commemorate the event, the club issued a limited number of engraved mini maglites.
When dining, special parking passes are issued.
From the Michael and Joanna Hulme collection.
Editorial Note:
When one mentions Disneyland, one thinks of welcoming smiles, warm greetings, and in general, a cast of crew members willing to do anything to help a guest. When proper channels have been observed, the club offers such warmth and hospitality. If however you merely knock upon the door or call them asking for certain favors, please do not get emotionally hurt or take their refusal personally if they cannot comply. The club is quite secure and procedures are strictly followed. It would be best to avoid the hurt feelings or embarrassment and follow the club's rules as set forth. Please remember, this is an extremely exclusive club.