Interesting Stories
This area still has to be developed and will certainly take some time. As the stories come in, we'll post them as quickly as possible.
---
Futurama
The wonderfully creative animated series 'Futurama' paid a small tribute to the club and pioneer French film director/producer Marie-Georges-Jean Melies.
Season 1, Episode 2, entitled 'The Series Has Landed'. The crew visits a theme park located on the moon and while walking down Main Street, watch as they pass by a somewhat familiar looking door. Their version appears to be '33 1/2'. The mascot which enters the scene is based upon Melies' film, 'A Trip To The Moon'.
These images are displayed for informational purposes only and are reproduced on this web site as a references source only.
For more information on Futurama please visit Comedy Central's official Futurama web site.
To learn more about Georges Milies, please click here.
The Futurama clip is courtesy of www.imdb.com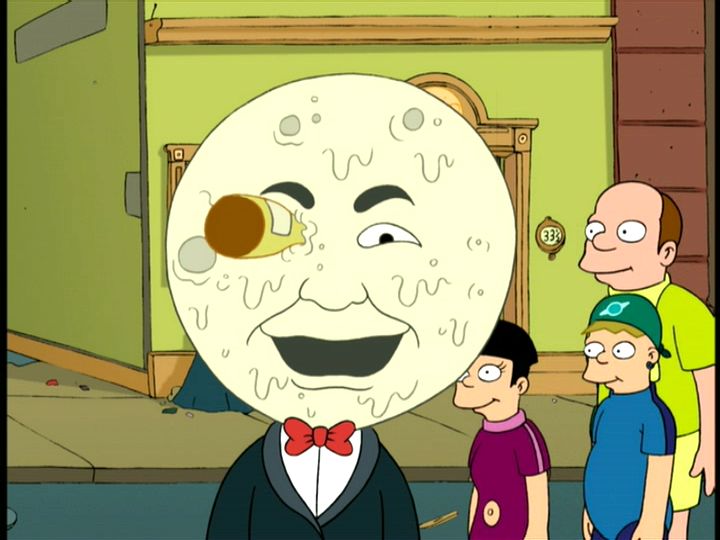 I wish to thank www.slurmed.com for the high resolution screen shot.
---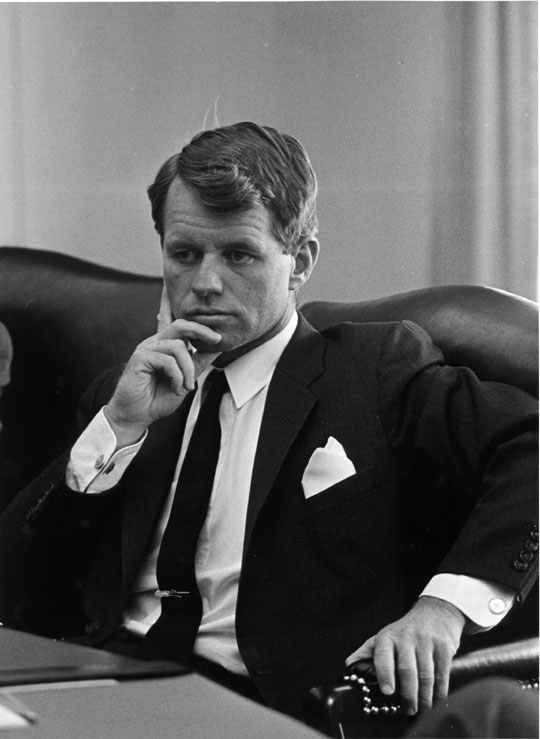 Photo Courtesy of the United States Senate.
Robert Francis Kennedy
Nov. 20, 1924 - June 6, 1968

On 3-26-2008 I received a very interesting e-mail from an elderly gentleman who wished to remain anonymous. He stated he was friends with one of the original managers of the club. His e-mail was entitled Robert Kennedy 6-3-1968. Well, it sounded interesting, so I wasted no time in opening. The e-mail stated that on 6-3-1968 Robert Kennedy spent the day as Disneyland and enjoyed a lovely dinner with his family. This being 2 days prior to his assassination on 6-5-1968. I researched the last days of Robert Kennedy and sure enough, he was correct. While I could not find anything mentioning the club specifically, I do believe he would have been allowed access for security reasons.
Listed and sold on ebay, 3-2-2008, was this beautiful postcard which clearly shows Kennedy was at the park on 6-3-1968.
His visit to Disneyland is mentioned in the following:
(we cut and pasted only the paragraph in which Disneyland is mentioned)
Robert Kennedy
His Life
By EVAN THOMAS
Simon & Schuster
http://www.nytimes.com/books/first/t/thomas-kennedy.html
"The overhyped debate was regarded as anticlimactic, "a mutually pedestrian performance," wrote David Halberstam. For Kennedy, a draw was a win: he had exceeded expectations. McCarthy "didn't do his homework," Kennedy said. The next day the absentee father took his kids (six of them had come out to California) to Disneyland, where they rode Pirates of the Caribbean. On Monday came the final, grueling push: Los Angeles to San Francisco, back to Long Beach and Watts, and down to San Diego, 1,200 miles and all three major California TV markets. On the plane back to Los Angeles, he recovered from his near collapse during his last speech in San Diego, but he was reaching the limit of his physical endurance."
---
Vanessa Hudgens discusses the club with Conan O'Brian!
---
Wow! I was at the club in early May and John Lassiter from Pixar was there! Dion
---
This past weekend was my very first visit and Sammy Hagar was there. I was so happy, but I obeyed the rules and didn't disturb him. Susan
---
Here is a nice piece of history from former staff employee Richard Miller:
I was reading your history of the Old Trophy Room and did not see it mentioned how and why there even was a trophy room when Walt himself was anti-hunting. The reason that was told to me was, that Walt had a good friend who was an avid hunter. Apparently they used to tease each other about the hunting issue but in the end Walt's friend got the last laugh by leaving a large group of trophies of exotic animals to Walt in his will. This was about the time Walt was decorating Club 33 so he decided to put them in the small dining room which was then called "The Trophy Room". When I worked there it included several large horned animal heads and many boxes of exotic butterflies in addition to the items listed on your website. One of my favorite memories of that room was a luncheon I was able to host for a reunion of the original Mousketeers
---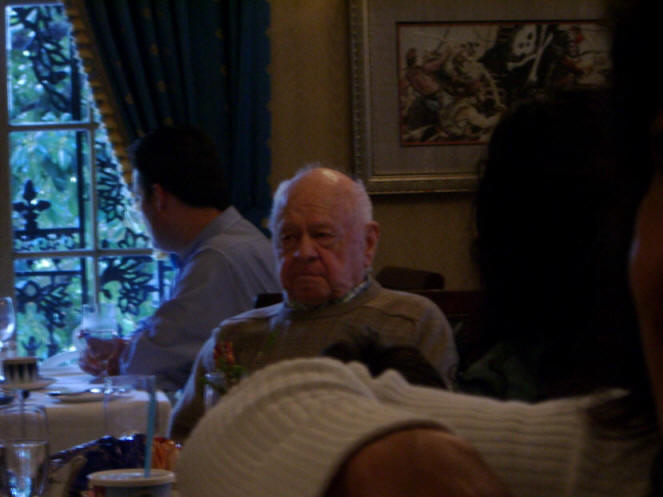 "On a lunchtime visit to the club October 12th of 2007 on a business
trip, my family and I spotted Mickey Rooney right across from us! We
managed to get a picture without looking overly-touristy. We were very
excited after hearing rumors from others that he had been in the club
as an assurance it was him." Tyler
---
On Oct. 21st, 2007, Link from www.FrameFetish.com was enjoying dinner with friends from Universal Studios. Sitting directly behind them was one of the Nelson Brothers, son of rock legend Ricky Nelson (Ozzie and Harriet's son). Link said he was very friendly and they enjoyed talking.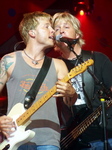 You can visit the Nelson Bros. official web site at www.TheNelsonBrothers.com
---
I was visiting the club near Christmas of 2005 and while having dinner, we heard a most distinguished laugh from the table behind us! It was the famous actor Bernard Fox. He's best known for his roll as Dr. Bombay on Bewitched! He was a most likeable fellow, courteous and polite enjoying an evening with his family.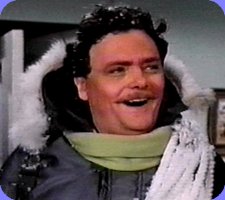 Photo courtesy of "Calling Dr. Bombay" http://www.harpiesbizarre.com/bombay.htm
---
We were enjoying dinner at the club and were most fortunate to meet Ms. Mira Sorvino and her Husband Christopher Backus. They were very nice and watched Fantasmic from the balcony with the rest of the club guests.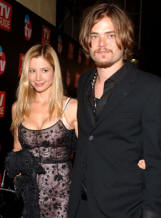 Photo courtesy of Yahoo Movies
http://movies.yahoo.com/movie/contributor/1800018670/photo/589266
---
On July 4th 2003 we were visiting the club and learned that Shaq and Kobe had reservations for that evening. They were both very nice and extremely professional. We enjoyed our wonderful 4th of July dinner!
---
Early in January, 2002, Mr. Kevin Kehoe was dining with his family. Mr. Kehoe heard a familiar voice behind him, and upon turning to see who it was, he met Mike Ness, lead singer of Social Distortion! The band was having dinner!
---
On 8-24-01, The Orange County Register ran an article on Lee Williams, the club bartender who was inducted in the Bartending Hall of Fame!
Click here to view the article.
---

Tommy Smothers, John Lassiter, and Michael Eisner were recently seen enjoying dinner together. Tommy of course, had everyone laughing so hard they could hardly eat! Tommy was there to promote their wine which can be seen at: http://www.smothersbrothers.com/remick.html

You can visit the Smothers Brothers web site by clicking here.
---
I went to the club for my 30th birthday. I am not a member. A friend made some calls and was able to get me and my guests invited. Our waiter was so wonderful. Our reservation was at 6:30. He invited us to stay at the club after dinner to view the first showing of Fantasmic from the balcony. We still had many attractions to go on before the end of the day so we politely declined. He knew it was my birthday. He invited us to return at 9:45 to view the second showing of Fantasmic from the balcony after we had time to enjoy the other attractions. When we arrived back at the club, I realized that they were already closing. By the time the second Fantasmic was to start the club was closed. They stayed open just so my guests and I could view Fantasmic from their balcony. They even opened the bar for us during the show. This was more than a perfect ending to a wonderful day and to my 30th birthday. This was an amazing experience I will never forget.
Ryan, Los Angeles, CA