Executive Chef Andrew Sutton
With the club's expansion, comes a few changes within the kitchen.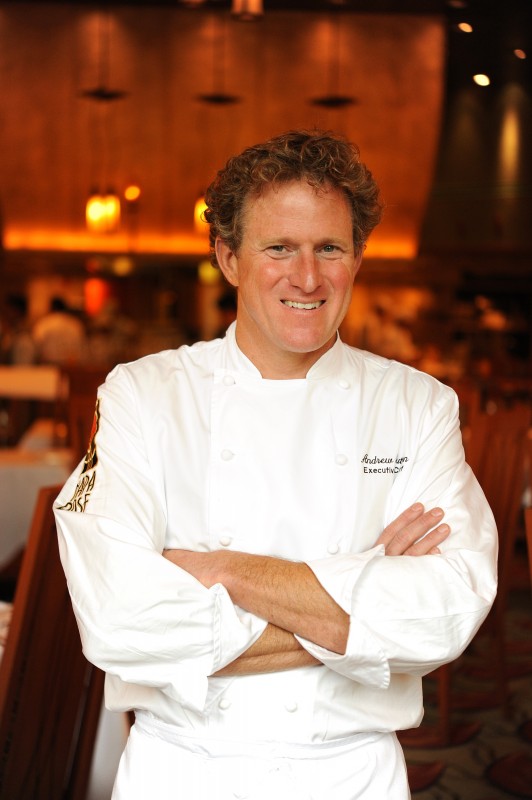 Photo courtesy of Disneylandnews.com
Chef Andrew Sutton
A Texas culinary prodigy, Andrew was exposed at a young age to an extremely eclectic variety of food and culture.
When most folks think of Dallas, thoughts flash to a Wild West atmosphere, catered to by roadside BBQ stands where beef is king and countless heads of cattle line the roads, watching oil rigging trucks pass by from behind barbed wire. Perhaps you would have been partially correct 70 years ago, but times have changed.
Dallas thrives on fresh produce, ample supplies of premium beef, pork, fish and imported foods from the around the world. As this beautiful city has grown exponentially, so have it's inhabitants. One of these transplants was Chef Jean LaFont.

Photo courtesy of Dallas News
Chef Jean LaFont
Born in France, Chef LaFont arrived in the Lone Star State in 1972, where, through hard work and a love for his craft, he became the Executive Chef of Universal Restaurants. He has often been credited as the chef who is solely responsible for the culinary expansion of Dallas. He is also the one who, in 1982, hired a young man named Andrew Sutton and set him on the path which has now lead to the one of the most exclusive restaurants in the world.
Like many aspiring chefs, Andrew enjoyed living in various locations, all in an effort to expand his culinary knowledge. Venturing to New York, Denver, and Florida, these locations helped to foster his expertise in Italian cuisine, traditional Mid-West cooking, and the art of working with a variety of fish.
After only two years of working with Chef LaFont, Andrew realized that cooking was his true passion and he continued his education by enrolling in the prestigious Culinary Institute of America. It wasn't long after graduation that Andrew continued his education and expanded his skills as a poissonier (French term for fish chef), transferring to the highly praised Dallas restaurant, Mansion on Turtle Creek. Not long after his arrival, Andrew was promoted to sous-chef.
From there it was on to Napa Valley to work with Dean Fearing at Auberge du Soleil. He was promoted to Executive Chef in 1995 and it was here that Chef Andrew developed his love of fine wine and the California lifestyle.
In 2000 Andrew packed his bags and headed to Southern California, recruited by Disney to become the Executive Chef and driving force behind Disneyland's Napa Rose.
Napa Rose has allowed Chef Andrew the opportunity to craft seasonal offerings and hand select the most highly trained cooks and servers within the restaurant industry. Creating culinary treats with a distinct California style and flair, Chef Andrew has captured the confidence of thousands of guests and is well known for his 'chef's table'. This wonderful dining concept allows guests of Napa Rose to sit near the kitchen and interact personally with Chef Andrew, whereupon, he custom designs each guest's meal based upon their individual tastes. Ask anyone who has ever dined at Napa Rose and they'll most certainly confirm what a fabulous dining experience Chef Andrew offers.
In 2009, Chef Andrew received the exceptionally prestigious Antonin Careme Medal from the American Culinary Federation.
The following YouTube videos will provide a wonderful introduction to Chef Andrew Sutton.

The above YouTube video is courtesy of OC Chef's, Episode Seven: Executive Chef Andrew Sutton.
The above video is courtesy of Disney Parks
The above video is courtesy of BringingItHome
The above video is courtesy of BringingItHome
The above video is courtesy of TheAAAOklahoma