Main Dining Room
Vintage Images Prior to Renovation
The main dining room offers a spectacular view of New Orleans Square and The Rivers of America. Most guests are seated in the main dining room due to it's spacious accommodations and elegant styling. We have a limited number of photos due to lighting, but hope to have more soon. Thank you for your patience.
The ambiance that only the club can provide. This is the North/East corner of the dining room. This photo was chosen for the accurate and quite vivid colors.
In these photos, you can see the ornate fireplace and mantle. The largest tables are located in the center of the dining room. Note the champagne bucket on the right.
Recessed into the South wall of the main dining room, this lovely cabinet houses a beautiful bronze sculpture and allows for storage. In the right corner are bottled waters, wrapped in linen, waiting to be served. Nothing but the best.
Here is a view of the dining room facing West.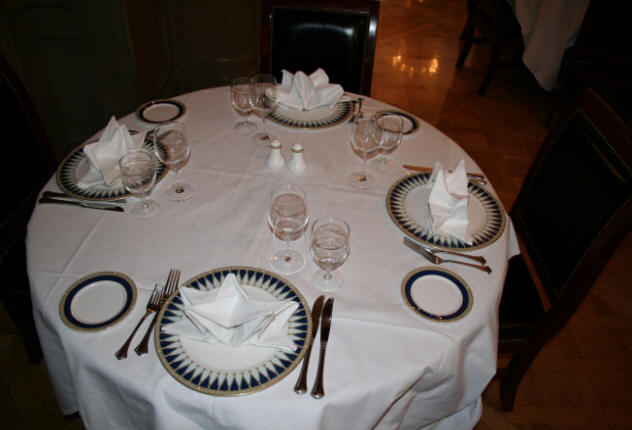 A table for four ready for the evening's events.
The cobalt blue charger plates have been replaced with this new design. They are quite striking. The plates are removed prior to dining, being for display only.
In keeping with the New Orleans Square tradition, the club hosts a number of pirate based artwork.
Hand made chandeliers illuminate the main dining room. The French influence is impeccably pronounced.
Hand crafted moldings encompass the room, offering a feast for the discerning eye.