Club 33 was first conceived of by Walt Disney himself. He wanted a place where he could entertain personal friends and VIPs and show off his beloved Disneyland. To that end, he imagined a luxurious private club in the space above Pirates of the Caribbean and the Blue Bayou restaurant, lavishly furnished and offering the finest cuisine. He would maintain a private apartment next to the club, connected to it via the kitchen.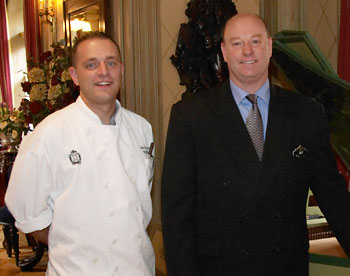 Executive Chef Marcel St. Pierre and
Manager Jeff Plumb welcome you to Club 33.

Walt and Lily scoured New Orleans antique stores to find unique and lovely objects for his Club. He even had the Imagineers copy an old-fashioned elevator that caught his fancy in a Parisian hotel. "Walt and Lily wanted to buy the lift, but the hotel wouldn't sell it. So they had an exact copy made," Club 33 manager Jeff Plumb tells us.

Sadly, Walt never lived to see this piece of his dream become reality. Club 33 opened after Walt's death, but, except for the private apartment (that space, above Pirates of the Caribbean, is now the Disney Gallery), it's just what he envisaged.

The club's members (there are currently from 470 to 490 of them) enjoy gourmet cuisine like champagne risotto, roast muscovy duck, and lamb osso bucco in two lovely dining rooms. A staff of around 70 is on hand to cater to members and their guests. "We know what our members like, we try to remember everyone's preferences," Jeff tells us. "We have one member who visits every year from Australia – he loves salmon and when he comes, we make sure he gets his salmon – whether it's on the menu or not!"

Click for larger image.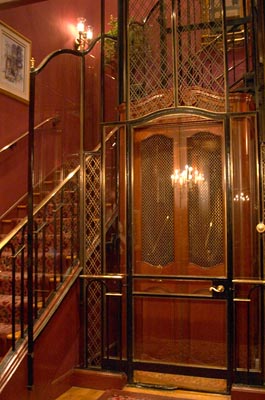 The old-fashioned lift is ready to whisk you upstairs.

From the moment you enter the lobby, you know you're in a special place. You're surrounded by art, gleaming wood, and lavish wall coverings, and that spectacular brass elevator. Upstairs members and guests discover lovely flower arrangements, concept art from attractions like the Haunted Mansion, and even an antique harpsichord, decorated with murals by the Imagineers. Paul McCartney visited recently, Jeff tells us, and sat down to the harpsichord – which, sadly, needed tuning and refurbishing at the time.

Members can enter Disneyland Park, and the club, 365 days a year, but they are also privy to some truly spectacular monthly members-only events – like viewing the Fantasmic! fireworks show in a reserved seating area when it debuted, then tucking into a fireworks-themed dinner, complete with a dazzling dessert featuring spun-sugar pyrotechnics. Other events have included a night featuring the wines of Fess Parker – the actor who played Davy Crockett still has a special fondness for Disney, says Jeff. "He's a great friend of ours!"

Both Marcel and Jeff began their Disney careers at other restaurants at the resort – Marcel proved himself at Disneyland Resort's lavish and lovely Granville's restaurant before joining the Club 33 staff, while Jeff is a veteran of several of the Disney hotel restaurants.

Click for larger image.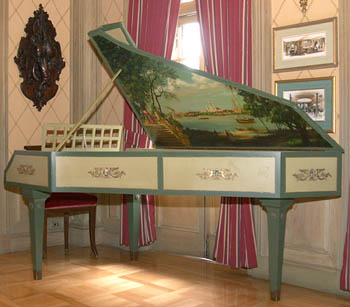 The mural on this antique harpsichord was painted by Imagineers.
They agree that Club 33 is a dream job. "We have so much latitude with the menu," says Marcel. "I create the food and Jeff does the wine – we make a great team!"
Club 33 membership is within the reach of anyone who is willing to pay the annual dues, and wait … and wait … and wait … for a coveted spot to open up. Members tend to stay for the long haul – some as long as 38 years – so new openings are few and far between! However, that patience and investment are richly rewarded by a Disneyland experience truly unlike any other. If you'd like to learn more, you can write and request an information packet and application at:
1313 Harbor Blvd.
Anaheim, CA 92802
Attention: Club 33
To get a taste of Club 33, try Chef Marcel's magnificent dessert treat:
White Godiva, Dark Chocolate Celebration


Click for larger image.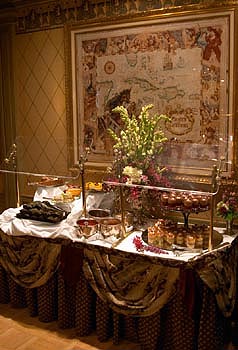 Club 33's luscious lunchtime dessert spread.

Chocolate Terrine

1 oz. canola oil
12 oz. bittersweet chocolate (or Hershey Bar)*
8 1/2 oz. unsalted butter, cubed
4 large eggs, separated
4 large egg yolks
1 1/2 cups confectioner's sugar
1/3 cup unsweetened cocoa powder
1/2 cup heavy cream
2 tsp. granulated sugar*
* If you use the Hershey Bar, do not add granulated sugar

1. Lightly oil a 12 x 4, 3-inch-high, terrine mold. Line with plastic wrap and set aside.

2. Find a metal bowl that fits comfortably in a saucepan.

3. Melt chocolate and butter together in the metal bowl over lightly simmering water (not boiling), stirring from time to time.

4. Remove from heat and let cool slightly.

5. When chocolate is warm enough to touch, stir in 8 egg yolks until well combined (you'll know they're well combined when the mixture is the same color throughout).

6. Sift in the confectioner's sugar and cocoa powder, and stir with wooden spoon or rubber spatula.

7. Whip the heavy cream in a separate bowl until it forms soft peaks, then refrigerate. Beat the 4 egg whites and granulated sugar
together in another bowl till soft peaks form. (You can also use a stand mixer for this step.)

8. Fold in the egg whites and then fold in the cold whipping cream.

9. Pour your chocolate into the terrine mold and fold over the plastic wrap to cover the top.

10. Refrigerate for at least 24 hours (3 days is best).

11. When ready to serve, flip over terrine mold and the terrine should fall out (you can tug on the plastic to wiggle it out, if necessary). Remove the plastic and slice with a thin sharp knife that has been sitting in hot water. Wipe the knife after each slice. Serve each portion topped with White Godiva Vanilla Sauce.



Click for larger image.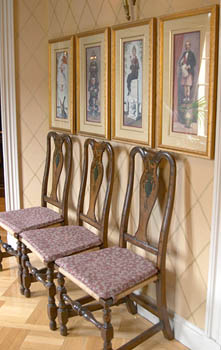 Among the art at the Club are these original paintings from the creation of the Haunted Mansion.
White Godiva Vanilla Sauce

1/2 cup sugar
5 large egg yolks
1 1/2 cups whole milk
2 tbsp. vanilla extract
1/2 cup Godiva white chocolate liqueur

1. In a metal bowl, whisk sugar and egg yolks together.

2. Combine the milk and vanilla in a saucepan and bring to a boil (be careful not to let them scorch – check the bottom of the pan frequently with a wooden spoon).

3. Slowly pour ¼ cup of hot milk into the egg yolk mixture, whisking constantly.

4. Whisk the egg yolk mixture into the milk and return to heat.

5. Whisk in the liqueur and cook on low heat until first signs of boiling (stir constantly).

6. Quickly strain the sauce into a bowl and cover with plastic.

7. Place in refrigerator to cool.